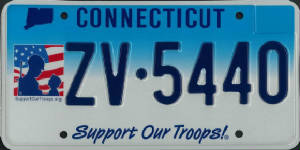 Support our Troops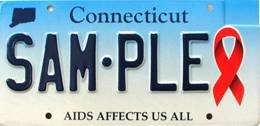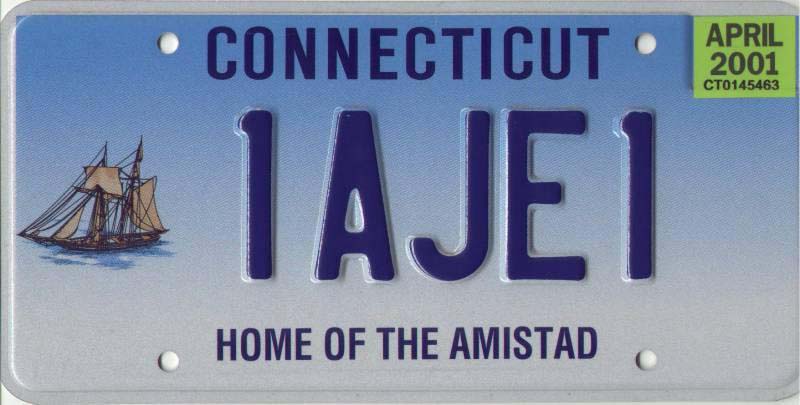 AMISTAD - Actual issue plate using 1AAA1 numbering.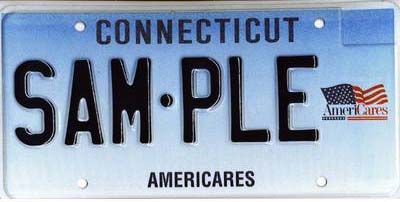 Above: Americares - Never issued due to lack of interest.
Beardsley Zoo - Issued July 2004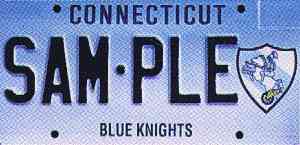 Blue Knights -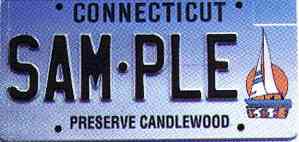 Above: Preserve Candlewood Lake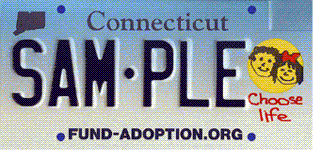 Children First Foundation Plate - Choose Life - Began issue Feburary 2004.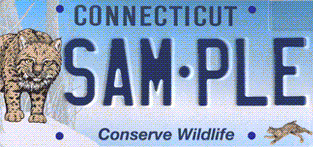 Conserve Wildlife - Introduced, April 2004
Cure Kids Cancer - First Issued Feb 2004.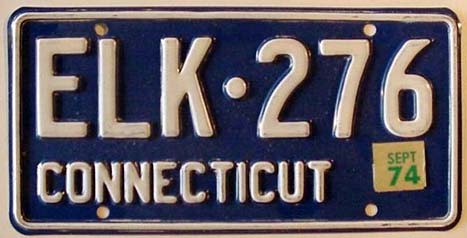 ELKS - ELK specialty plate. Shown on a 74 base. (JWW collection)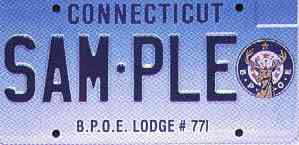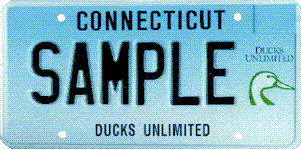 Ducks Unlimited -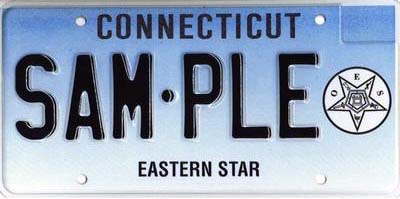 Eastern Star - Never issued due to lack of interest.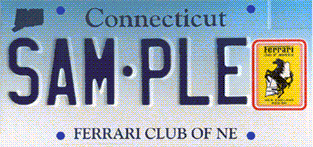 Farrari Club of America - Available Feb 2004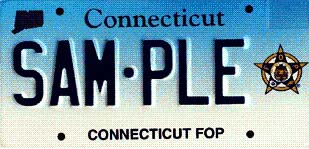 Fraternal Order of Police -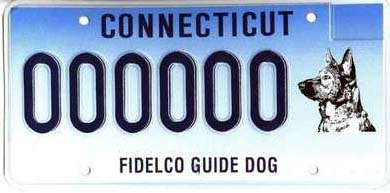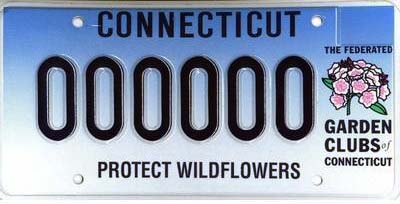 Above: Protect Wildflowers - The Federated Garden
Clubs of Connecticut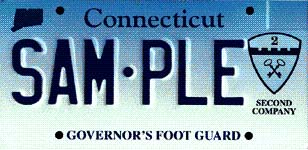 Above: Governor's Foot Guard - Second Company.
Notice difference from the First Company Plate below; font change on all text from all Caps Arial to Serif, also the 's on Governor and Foot Guard is two words.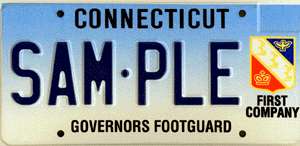 Above: Governors FootGuard - First Company
Above: 1CO Governors Horse Guard
_____________________________________________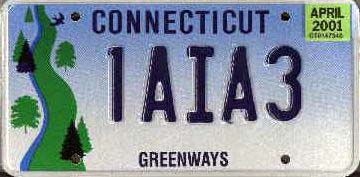 GREENWAYS - A off the shelf issue plate. The 1AAA1 Series format is used.
GREENWAYS - A remake of a regular passenger series. (eBay photo)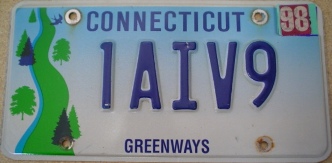 _____________________________________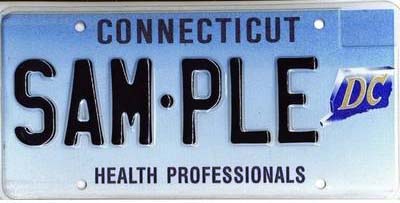 Health Professionals -
| | |
| --- | --- |
| KIDS SAFE - The sale of these plates benefit the Keep Kids Safe Fund, which supports programs that keep kids safe from severe and preventable injuries. This series includes: 100.KID-999.KID; 100.TOT-999.TOT; 100.ZZZ - 999.ZZZ; 100.ZZY-999.ZZY. Introduced in 1997 | |
|   | |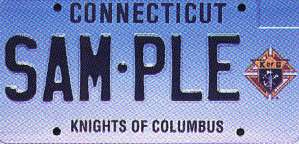 Knights of Columbus -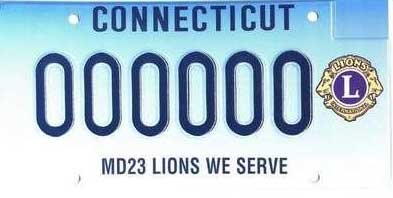 Above: Lions International -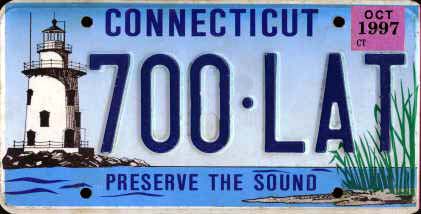 LONG ISLAND SOUND - or LIS plates started with the 100.LIS series, followed by LAA,LAB,C ect.. Series LAK,LAL,M,N,O,P,R,S,T had large font with serif as shown in this picture. Introduced in November 1992.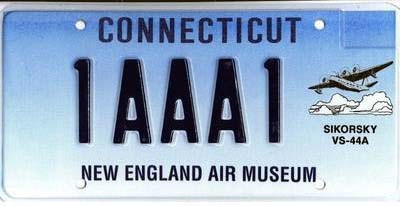 New England Air Museum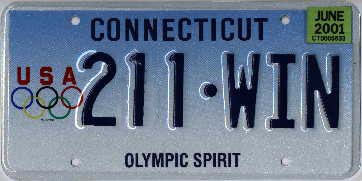 OLYMPIC SPIRIT - This series currently runs 100.WIN thru present.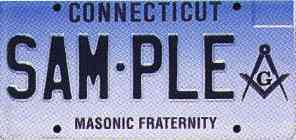 Masonic Fraternity -
Meriden, Town of -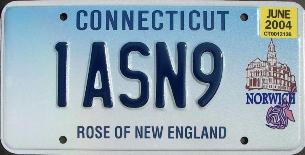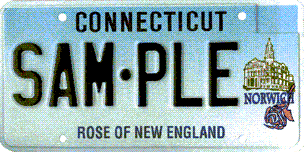 Norwich, Town of -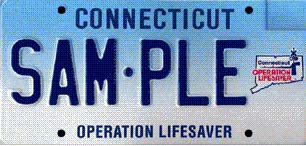 Pet Plates - This series as used 100.PET to 999.PET, 100.CAT to 999.CAT and 100.DOG to 999.DOG.

Currently 100.TLC. Introduced in November 1998.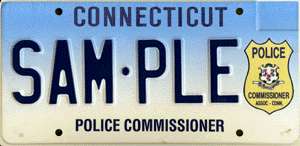 Police Commissioner
Plate and photo courtesy of Dave Kuehn
Above: CT Trust - "Preserving our Past"
A non-profit organization formed to preserve the character and ensure the vitality of Connecticut's historically significant places.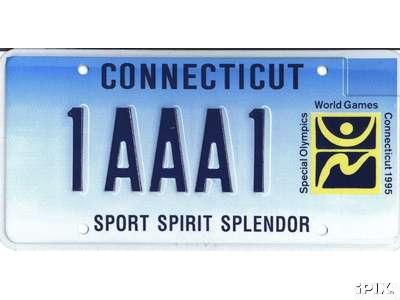 SPECIAL OLYMPICS - Base started in 1995, No longer issued. (DMV Photo)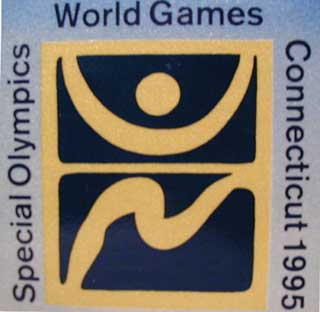 Inset - Special Olympics Logo enlarged.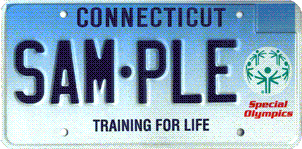 Special Olympics-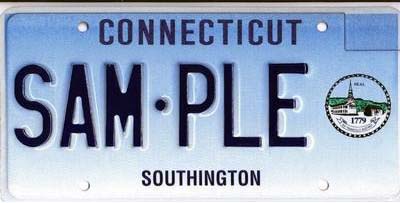 Southington, Town of - Never issued due to lack of interest.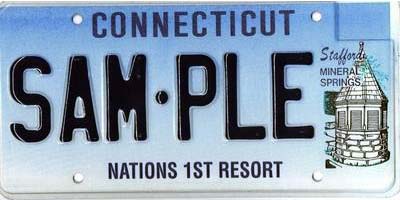 Stafford Springs, Town of -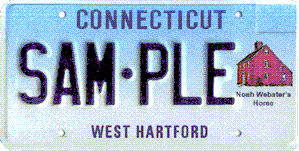 West Hartford, Town of - Issuance is not certain.